Delivery, Returns & Exchanges
ONLINE HOME DELIVERY CHARGES (NON-BULK ORDERS) INC VAT
Posted using either Royal Mail or courier service.  Up to 2.5kg per parcel.
| | | |
| --- | --- | --- |
|   | Service | Price Per Parcel  (Inc VAT) |
| United Kingdom | Next working day Zone A / 2-5 working days Zones B - E | £7.50 |
| United Kingdom | Standard Royal Mail 2nd Class Recorded (allow 3 -5 working days) | £4.50 |
| European Union Countries  | Standard Royal Mail Europe (3-10 working days) | £16.00 |
| Non EU & Rest of World | Standard International (5+ working days) | Please Contact Us |
BULK DELIVERY CHARGES (EXCLUDING VAT) 
Delivery charges for bulk orders will be calculated once the whole order has been collated. 
 
Zones A & B
Zone C
Zones D & E
 
Up to 15kg per consignment
Over 15kg - add per kg
Up to 15kg per consignment
Over 15kg - add per kg
Up to 15kg per consignment
Over 15kg - add per kg
Next working day
£9.25
40p
£32.00
90p
£45.00
£1.30
Next working day by noon
£19.50
40p
£45.00
90p
£55.00
£1.30
Next working day by 10am
£26.00
40p
£60.00
90p
£70.00
£1.30
 
 
 
 
 
 
Saturday
£58.00
40p
£88.00
90p
£98.00
£1.30
Saturday by 10am
£75.00
40p
£98.00
90p
£108.00
£1.30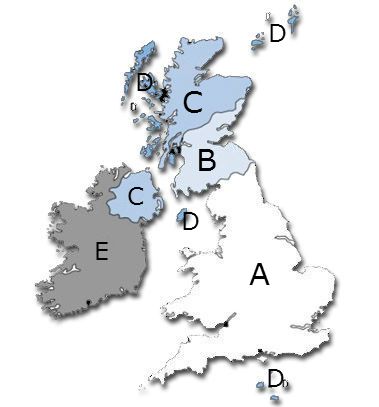 EXTRA CHARGES FOR OTHER SERVICES
Isle of Wight & Isles of Scilly
£30.00
Per consignment
Return to Sender
£25.00
Per consignment
Nothing to Collect Fee
£40.00 
Cheque on Delivery
£50.00
Per consignment
Booked in Delivery
£40.00
Per consignment
Long length over 2m
£60.00
Per consignment
ADDITIONAL INFORMATION
This price list assumes that the Customers carton size and weight dimensions fall within the Carriers standard range. Oversized and underweight cartons may be subject to an additional surcharge.
Sports and Leisure Brands Ltd can not be held responsible for cartons damaged in transit by a Carrier. However, Sports and Leisure Brands Ltd will actively pursue any Carrier for recompense in the event of a loss subject to the standard terms of the Carrier.
Standard insurance terms are a maximum of £10.00 per kg with a £25 excess charge.
Please contact us at sales@sportsandlesiurebrands.co.uk for prices for bulk deliveries outside the United Kingdom and Ireland.
The 'Free UK delivery on orders £30 and over' promotion is applicable to retail items purchased via SHOP.IMPSPORT.COM only and excludes any customised products or garments, made to order garments such as sportive jerseys and bibshorts, event merchandise products and delivery outside of the UK. 
RETURN & EXCHANGE POLICY
Impsport Custom Clothing and Kit Designer products are manufactured to order and we are unable to accept returns or exchanges of any bespoke, custom or products manufactured to a customer's own specification. For shortages, damage or other issues please consult our full terms and conditions or contact us at sales@sportsandleisurebrands.co.uk for details.